SURELY YOU ARE SICK AND TIRED OF WORRYING WHAT OTHER PEOPLE THINK OF YOU? YOU DON'T HAVE TO…
NOT ANYMORE. INSTEAD…
 Belief in Yourself and Develop a 'Can Do' Mentality
 Feel Confident in Social Situations
 Develop the Courage to Get Out of Your Comfort Zone
 Have the Confidence to Speak Up and Stand Up to People
 Feel Great in Your Own Skin!
Sounds too good to be true? Do you hear this nagging voice in your head, your inner critic, telling you this can't be done? Maybe for others but not for you? Just ignore him and keep reading 😉
JUST IMAGINE...
…having the confidence to be your true self and living the life you were meant to live.
Imagine…
Falling in love with your irresistible self
Having the confidence to say 'NO' to people and situations that do not serve you
Being in control of your mind and your emotions and being less reactive to the outside
Being strong and confident enough to make a fresh start, in relationships or job-wise
Seriously: What if this was your 'new normal'?
You are no longer accepting disrespectful behavior and people who do not deserve you
You know what you want and set high standards for yourself
Your confidence mindset is unshakable
You are finally doing what you're meant to do with your life
YOU DESERVE TO BE THAT WOMAN.
Confidence is not "They will like me." Confidence is "I'll be fine if they don't."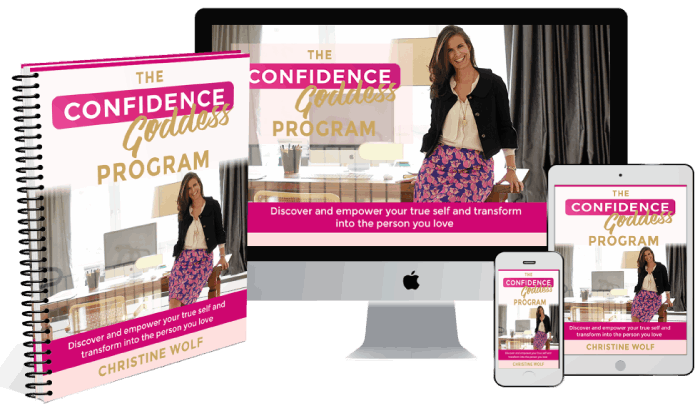 WHAT IS INCLUDED IN THE PROGRAM?
PERSONAL SUPPORT
LIVE group coaching calls with me for 4 months – 2 calls/ month. This is your opportunity to ask questions, gain clarity about the modules and exercises and connect to your tribe.
Hands-on coaching & attention

from me and my team to stay in high-confidence-vibration every single week.
24 inspiring and instructional video trainings

to empower yourself and build up your confidence to transform yourself into a CONFIDENCE GODDESS.
A private Facebook group

of like-minded fabulous women to support you every step of the way. Get encouragement and feedback from your sisterhood connection with extraordinary women around the world. You'll finally feel like you've found your soul sisters – women who "get you"! You don't have to do it alone anymore.
Encouragement from the other amazing women in the group

– finally, you'll feel "heard & understood". Imagine how much more confident you'd feel being surrounded by other fantastic women in similar situations, knowing you are not alone.
16 work books with powerful exercises

that have been designed with the support of an e-learning specialist to best support you in applying what you have learned in the trainings and turn theory into reality.
Bonus resources

such as meditations, affirmations and playlists to keep you in the right mindset and motivated throughout the program.
HI, I AM CHRISTINE WOLF AND THIS IS WHY YOU CAN TRUST ME…
MY MISSION
EMPOWERING WOMEN TO BE THEIR CONFIDENT SELF AND LIVE THEIR DREAM LIFE
My greatest passion is to support women in their inner discovery on their journey back to themselves: Cutting through the clutter, leaving the past behind and unleashing their superpowers. Re-inventing themselves to be a goddess full of confidence, beauty and power.
CHRISTINE WOLF
MOTHER OF 2 AMAZING DAUGHTERS
CONFIDENCE MENTOR
ENTREPRENEUR
In spring 2011 my world fell apart when I hit a very heavy personal crisis which left me completely devastated, and my self-confidence and self-esteem hit rock bottom. I painfully realized that my confidence was based entirely on outside factors such as the appreciation from others for my looks or my professional achievements. My fake self-esteem and my perfectly manicured façade fully collapsed. When all that broke away I was left with nothing but myself – unmasked, raw and extremely vulnerable.
The good thing is, when you hit rock bottom, there is only one way: and this way is up.
My journey to myself began. For the first time in my life I was radically honest to myself, started thinking about myself in a very different way, getting to know myself on a very profound level and building a solid foundation of confidence to approach life. I peeled off the layers that were covering my beautiful heart and discovered my true strength.
I spent 5 years with intense coaching, certified as an applied kinesiologist and attended Tony Robbins Mastery University.
With my newly found confidence I was able to finally take my two children and leave my unhappy and unfulfilling relationship. Another two years later, I gathered all my courage to leave my highly paid but unfulfilling manager job in a Fortune 500 company to pursue my dream as an online entrepreneur. This was a great risk as a single mother but I burned the boats and jumped and never looked back. It was the best decision of my life! Making those live-changing decisions would have never been possible without the confidence and deepest trust in myself, my abilities and a positive future.
I know this is possible for you, too! I created the CONFIDENCE GODDESS PROGRAM as an online group coaching course where I teach other women and walk them through exact the same process that helped me to get where I am today.
There are so many wonderful women out there who don't know their true value and strengths, and are not being treated the way they deserve to be treated. They don't have the confidence to speak up or make decisions, are stuck in unfulfilling or even toxic marriages or relationships – or don't have a partner at all because of painful past experiences. They are staying in unloved jobs they just do for the money because they can't think of any better options and are scared of a possible move and an uncertain future.
It's time to take life into your hands, and confidently make the decisions that shape your future for the better – leading to more happiness, freedom, success and fulfillment.
The CONFIDENCE GODDESS PROGRAM is right for you:
If you desire to:
Get to know yourself

, your skills and talents and find out how 

amazing you are and what you are really good at

!
Create a 

confidence

 that will allow you to go for what you want in life (career, finances, relationships, fitness and more)

Change your self-image

, learn where it came from and how to become the YOU that you want to be
Learn 

assertiveness

and

expressing your needs

in a confident manner
Develop 

self-love

and healthy appreciation for yourself

Unleash the divine female potential within you

 and start creating the life you're meant to live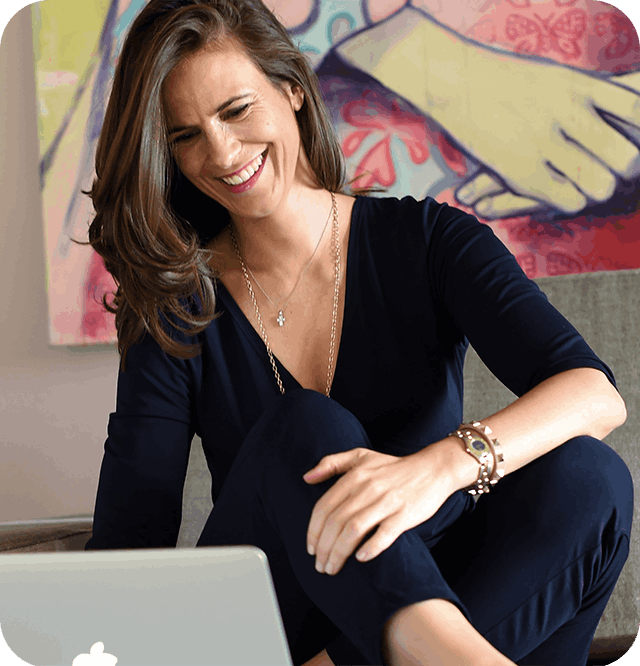 IF THAT IS WHAT YOU DESIRE, THEN THIS TRANSFORMATIONAL PROGRAM IS FOR YOU AND I'LL BE DELIGHTED TO GUIDE AND SUPPORT YOU ON EVERY STEP OF THE JOURNEY TO MORE CONFIDENCE AND HAPPINESS
The CONFIDENCE GODDESS PROGRAM is NOT for you:
If you are looking to join this community for

venting or feeling sorry for yourself

. We are here to uplift and empower amazing women and this is not a pity party
If you rather

blame others or outside forces

because it's easier than to start with yourself
If you just enroll into this program to

feel better about yourself and think this is enough work done

. This is an action-packed course where true transformation happens, but you need to put in some work
If you are

not prepared to dig in deep

. This program is not about scratching the surface but understanding the root causes for your thoughts, feelings and behaviors. Only that way true transformation can happen
If you

can't make yourself and your well-being a priority

and dedicate 1-2 hours a week to this course
COURSE CURRICULUM

Here is your 8-Step Process for Transforming Yourself
into a CONFIDENCE GODDESS

The CONFIDENCE GODDESS PROGRAM is broken down into 8 training modules over the course of 4 months. Each training module covers three topics (24 in total) and will be released every other week. All course materials, including streaming videos, MP3s, work books and more are available within the CONFIDENCE GODDESS membership portal.
Module 1: Confidence & Self-Awareness
Week 1: What is Confidence?
Find out why confidence is the key to anything you want and how you can leverage that for yourself! Discover what is holding you back from being the wonderful person you truly are.
Week 2: Understanding Confidence
Understand the root causes and underlying patterns that lead to a lack of confidence and low self-esteem and learn how you can overcome and transform them.
Week 3: Self-Awareness
Learn why self-awareness is a superpower and the pre-requisite for confidence. The more self-aware you are, the more confident you will become.
Module 2: Get to Know Yourself
Week 1. Strengths & Weaknesses
Discover why focusing on your strengths will make your life much easier and enable you to make life-changing decisions with ease and confidence.
Week 2. Your Core Needs
Discover what drives you and what you need to feel happy and fulfilled. You will identify your top two needs and learn how to leverage them.
Week 3. Your Value System
Identify your true values and find out how you avoid self-sabotage and paralyzation to get what you truly want.
Module 3: Self-Love, Healing & Boundaries
Week 1. Self-Love & Self-Esteem
Discover why putting yourself first is not an option but a necessity. Learn why comparing yourself to others is sabotaging your self-love and what you can do to grow your self-esteem and end the feeling of not being enough.
Week 2. Healing Emotional Wounds
Learn a powerful method to heal your emotional wounds and stop dragging their weight with you throughout your life.
Week 3. Setting Boundaries
Find out how setting clear boundaries will set you free and help you to increase your confidence. Learn three simple ways of saying 'No' with love and grace.
Module 4: The 3 Power Virtues
Week 1. Gratitude
Experience the power of gratitude and how you can shift your mind from the negative to the positive in seconds.
Week 2. Forgiveness
Find out why forgiveness is the key to a happy life and set yourself free with a powerful forgiveness exercise.
Week 3. Non-Judgement
Learn how judgement can destroy your life and what you can do about it.
Module 5: Leaving Your Comfort Zone & Being Vulnerable
Week 1. Creating a Safe Space
Learn how you can create a safe space for yourself and for others and turn yourself into a people-magnet.
Week 2. Leaving Your Comfort Zone
Find out why life starts at the end of your comfort zone and why leaving your comfort zone can be your biggest confidence booster.
Week 3. Being Vulnerable
Learn how to get rid of your invisible armor and be authentic and approachable. Discover the difference between being vulnerable and being weak.
Module 6: Handling Triggers and Letting Go
Week 1: Handling Rejection & Triggers
Learn how to be the master of your subconscious mind and control your response even in heated situations.
Week 2: Overcoming Mindfuck
Discover how you are constantly sabotaging yourself without even realizing it and learn two powerful techniques for overcoming mindfuck instantly and becoming more confident and calm.
Week 3: The Power of Letting Go
Find out why letting go is essential for your happiness and what it will cost you to not let go of certain people, behaviors or things.
Module 7: Turn Yourself into a Goddess
Week 1. The Goddess Identity
Find out what makes a goddess a goddess and uncover your true identity.
Week 2. The Goddess Attitude
Find out why attitude is everything and how you develop a goddess attitude of dignity, grace, confidence, power and love.
Week 3. The Irresistible You
Imagine falling in love with yourself so deeply that you become your favorite person to spend time with. Being irresistible to yourself and others becomes your new normal.
Module 8: Living Your Goddess Qualities
Week 1. The Confidence Goddess at Work
Learn how to use your female goddess qualities to succeed at work and advance in your career.
Week 2. The Confidence Goddess in Relationships
Discover how to attract your dream relationship or light the fire in existing relationships.
Week 3. Designing Your Confidence Goddess Action Plan
Define your goals and develop an action plan to establish the CONFIDENCE GODDESS way as your new way of thinking, being and living – for sustainable long-term success.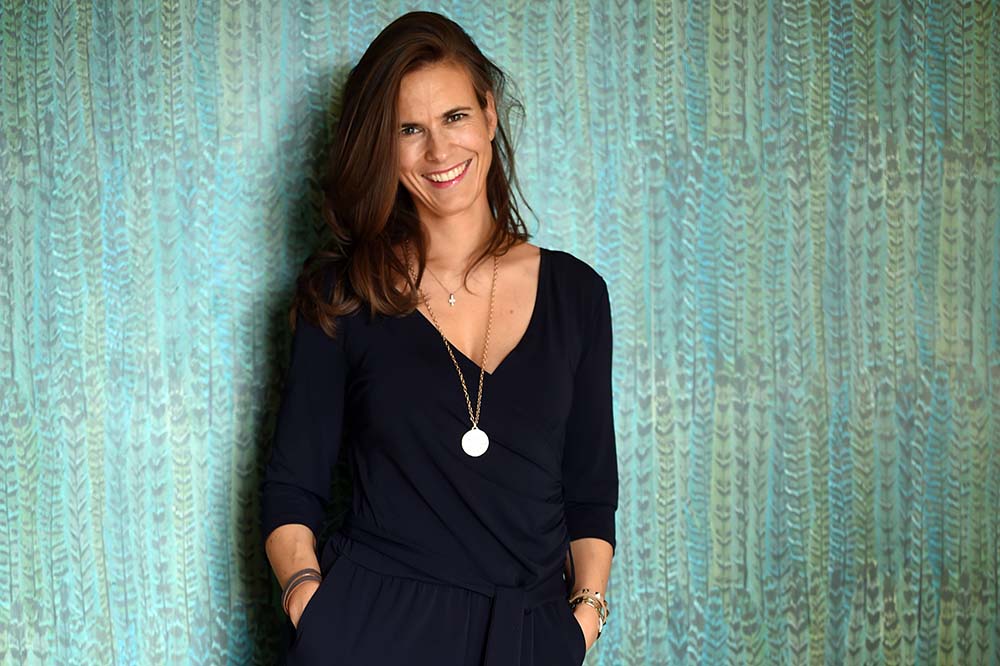 Confidence is like a muscle. The more you use it, the stronger it gets.
EVERYTHING IS ONLINE.
NO TRAVEL REQUIRED.
LEARN AT YOUR OWN PACE
The CONFIDENCE GODDESS PROGRAM is based online so you can participate from the comfort of your own sofa or use the audio version when you are commuting to work.
You have online access to the video trainings and exercises, so you can go through the material each week as it is released in the membership platform, or you can slow things down and work on your own schedule.
The weekly group coaching calls are also online and all calls will be recorded so you can access them later in case you missed them or want to watch the reply.
You'll also be able to ask questions in the live calls and in the private Facebook group, get feedback and connect with fellow participants and with me and my team.
How long is the CONFIDENCE GODDESS PROGRAM?
The CONFIDENCE GODDESS PROGRAM
runs for 4 months (VIP Program 8 months)
. You'll get access to the membership site with the materials which will be released every other week. When joining the program you'll also gain access to an incredible online community of smart successful women like yourself, driven to develop the confidence to make significant changes in their lives.
Once the initial 4 months are complete and all course content has been released, you'll have access to the entire library of training materials inside the membership portal and you can revisit and review as often as you like. You will also keep your access to the private Facebook group so you can keep in touch with your CONFIDENCE GODDESS tribe.
How much time do I need to set aside each week for the course?
Make yourself a priority and dedicate about 1-2 hours per week to the course and your confidence development. Confidence is like a muscle. The more you train it, the stronger it gets. It's like going to the gym: you won't see the effects after training only once or twice but you will notice considerable changes after training regularly for several months.
How is this program different from other programs?
I developed this program for my younger self and all the amazing women out there who are in similar situations. 7 years ago, when I hit emotional rock-bottom due to a major personal crisis and my confidence and self-esteem was crushed to the grounds, I wished I had found a program like that. A program that would help me to discover who I really am and what I want in life. A program that would give me loving and caring support when healing my wounded self and transforming from an emotionally tense, easily triggered girl into a conscious grown-up woman who fully owns who she is. A program that would show me my own greatness and teach me how to fully appreciate and love myself.
Unfortunately, 7 years ago, the CONFIDENCE GODDESS PROGRAM did not exist yet. I had to put together the puzzle myself and embarked on a journey of intense self-development work.
The CONFIDENCE GODDESS PROGRAM is the essence and best practice of what I have learned on my journey of personal growth.
It embodies self-discovery, healing work and the principles of feminine energy, enriched with many practical exercises and everyday examples that will help you to transform into the beautiful radiant confident women you already are deep inside.
Will I get any individual attention in this group program?
This is a truly unique opportunity for you to experience my individual attention in a group setting with extra accountability & sisterhood support from like-minded women. I actually love engaging with my clients on an individual level, so there are plenty of opportunities for that to happen during this program.
Will I have the opportunity to ask questions?
You'll have the chance to ask questions on every single group coaching call which takes place twice a month. The Facebook group is also a great place to ask questions as this is a community of highly engaged women who will support you as well. Of course, you will also get support from me and my team within the FB group.
How will I get the training materials? Will all calls be recorded?
This is a complete online course so everything will be stored on our membership site. Once you register, you'll get a unique log-in to the site. All live calls will be recorded so that you can download and listen to them in your own time in case you won't be able to attend the live session. The information provided on these calls will help you in developing your confidence no matter where you are in your personal journey. If you have questions, you will always be able to contact me and my team for support.
Do I need to do the program at certain times or can I access the materials anytime I want?
The video trainings will be released every other week on Monday and are available for you to watch in your own time. The live group coaching call is on a set date once every two weeks.
What are the times for the live coaching calls?
This depends on what best suits the participants of the individual group. The dates will be set as soon as the course starts. Even if you can't make it to a live call, you'll always have access to a recording that you can listen to later while driving in your car or cooking dinner!
Will there be 1:1 coaching available if needed?
You will have the opportunity to book 1:1 coaching sessions with me at extra cost. You can book them right from the beginning of the course or still decide later in the course. For more information, please send an email to christine@theconfidencegoddess.com
If you have read this far, you owe it to yourself
What if just one impulse in the CONFIDENCE GODDESS PROGRAM helps you to
re-connect to your inner self and open your beautiful heart for love and life?
What if just one idea in the CONFIDENCE GODDESS PROGRAM helps you to
change your current situation for the better?
What if just one exercise in the CONFIDENCE GODDESS PROGRAM helps you to
gain clarity over who you are as a person and what you want in life?
What would those changes realistically be worth to you over a lifetime?
$20,000… $50,000… $100,000… or more?
You have nothing to lose and everything to gain. Don't miss your chance to finally start living your own happy life and be the person you truly love.